Zilker Park | Austin, Texas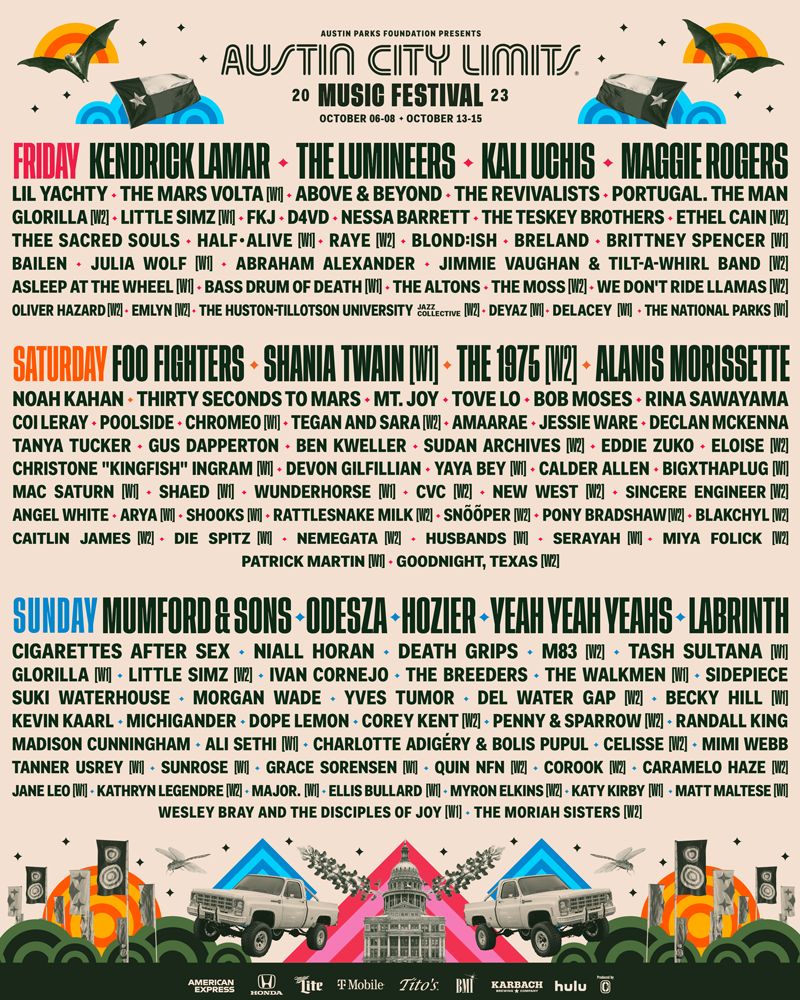 Austin City Limits is back and they've unleashed another impressive lineup for their 22nd annual festival! This year, the iconic event will run over two weekends — 6 - 8 October and 13 - 15 October 2023 at the one and only Zilker Park in South Austin.
Every year, the Austin City Limits Music Festival brings together the hottest stars from the music scene and rising talents, all fuelled by a hyped up crowd. And with headliners like The Foo Fighters, Shania Twain and Alanis Morissette taking to the stage on Saturday 7th October, this year is gonna be even more EPIC!
The organizers announced that for 2023, there will be an impressive nine-stage fest, alongside a diverse lineup that includes 45% female performers, LGBTQ+ artists, allies and icons as well as a number of Latin stars, including Ivan Cornejo, Kevin Knaarl, Eddie Zuko and others.
This night is gonna go down in history! Don't miss out - secure your tickets now before it's too late!
Circle your calendars! On Saturday 7th October 2023, Austin City Limits Music Festival are welcoming the Queen of country pop and 90s royalty to the stage. But that's not all! They're also in homegrown Texas talent with acts including The Mars Volta, Tanya Tucker, Ben Kweller, d4vd, Jimmy Vaughn, Asleep at the Wheel, Penny & Sparrow, Randall King, Abraham Alexander, Angel White, BigXThaPlug - just to name a few!
You absolutely can't afford to miss this once-in-a-lifetime opportunity to witness the reigning queen of country pop in action! Shania Twain is an absolute living legend, having sold over 100 million records, making her one of the top-selling music artists of all time and the best-selling female artist in the entire history of country music. WOW!
Shania Twain isn't the only royalty that will be gracing the stage on Saturday as the award-winning Canadian singer and songwriter Alanis Morissette will be bringing her alternative rock angst to South Austin. Since the 90s, Alanis Morissette has been rocking the stage and hearts of fans across the globe. Her breakthrough LP, Jagged Little Pill, became an international blockbuster and even earnt her the 1996 Grammy for Album of the Year. Picture you and your pals grooving to her emotive mezzo-soprano voice and chart-topping singles like "You Oughta Know," "Hand in My Pocket," and "Ironic". AMAZING!
And let's not forget the legendary Foo Fighters. At first, it was a solo project hatched by the former Nirvana drummer, Dave Grohl, and the project later transformed into the ultimate torchbearers of heavy, melodic arena rock. Foo Fighters now consists of Dave Grohl (lead vocals, guitar), Nate Mendel (bass guitar), Chris Shiflett (lead guitar), Rami Jaffee (Organ), and Josh Freese (drummer). They rose to prominence as one of the biggest and long-lasting acts to emerge from the alt-rock explosion of the 1990s. And now it's your chance to see these legends in the flesh!!
Call your crew and secure your tickets now before it's too late!