Zilker Park | Austin, Texas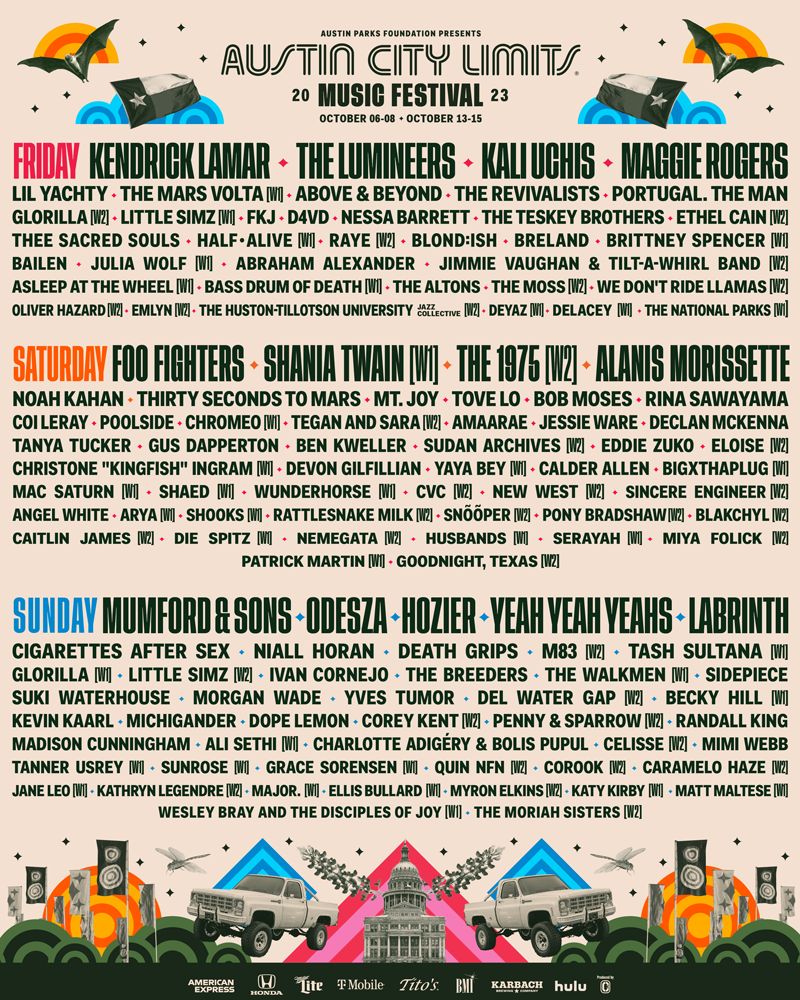 The 22nd annual Austin City Limits Music Festival is back and it's bigger than ever! This year, the festival will take place over two weekends — 6 - 8 October and 13 - 15 October 2023 at the legendary Zilker Park in South Austin.
Year after year, the Austin City Limits Music Festival never fails to disappoint! It brings together the biggest names in the music space, up and coming artists and a pumped up crowd. And guess what? This year is gonna be even more insane as industry heavyweights like Kendrick Lamar, the Lumineers, Kali Uchis and Maggie Roberts take to the stage on Friday 6th October 2023.
What's more? The organizers announced an incredible nine-stage fest, as well as a diverse lineup that includes 45% female performers, LGBTQ+ artists, allies and icons as well as a number of Latin stars, including Ivan Cornejo, Kevin Knaarl, Eddie Zuko and others. AMAZING!
This is a lineup you don't want to miss! Call your crew and secure your tickets now before it's too late!
Mark your calendars! On Friday 6th October 2023, Austin City Limits Music Festival is unleashing an unreal lineup. They're not only welcoming industry heavyweights like Kendrick Lamar, the Lumineers, Kali Uchis and Maggie Roberts to the stage, but bringing in homegrown Texas talent with acts including The Mars Volta, Tanya Tucker, Ben Kweller, d4vd, Jimmy Vaughn, Asleep at the Wheel, Penny & Sparrow, Randall King, Abraham Alexander, Angel White, BigXThaPlug, and a bunch of other amazing acts. WOW!
If you haven't already heard, Kendrick Lamar is considered one of the most influential rap artists of his generation and this is your chance to see the icon in person and up close! Imagine dancing to tracks from his chart-topping stride with major label albums Good Kid, M.A.A.D City (2012), the Grammy-winning To Pimp a Butterfly (2015), and the Grammy- and Pulitzer Prize-winning DAMN (2017). LEGENDARY stuff!
Kali Uchis is another A-lister who will be playing to the back of the crowd on Friday. She's an American Latino artist who made history as the first ever female artist in Billboard's top ten Latin chart in 2020 with her second album "Sin Miedo". You likely know "Telepatía" from that star-studded album - even if you don't know that you know it! The epic earworm has been listened to on Spotify more than 900,000,000 times at the last count.
And let's not forget The Lumineers – a favorite among festival goers! The alternative folk band brings a vibe so cool that even your shy friend will be busting out their best moves. Their co-founders and co-songwriters are the esteemed Wesley Schultz (lead vocals, guitar) and Jeremiah Fraites (drums, percussion) and they will be performing virtually all of the eclectic, effervescent instrumentation.
Imagine yourself in the crowd, belting out classics like "Ho Hey" from The Lumineers and grooving to fresh tunes from Maggie Rogers' latest album, "Surrender." It's gonna be pure BLISS!
So what are you waiting for? Grab your crew, secure your tickets and get ready for an unforgettable Friday at Austin City Limits Music Festival!